ZERO-WASTE GIFTING
Regular price
Sale price
Rs. 550.00
Unit price
per
Sale
Sold out
Kickstart your or your loved ones' Zero-Waste journey with our Everyday Essentials bundle. 
This box has all your daily skin-care needs covered. Our cold-process soaps will hydrate and replenish your skin without stripping it of moisture. Handmade with locally-sourced ingredients like antioxidant-rich Rice bran oil, and skin-healing Coconut oil, these soaps are a perfect sustainable swap that nourishes your skin with the care it deserves. 
Our exfoliating soap bag is a perfect addition to your bathing ritual. This nifty little bag works as a gentle, natural exfoliator, scrubbing away dead skin cells & dirt while helping extend the life of your soap!
Our Natural Deodorant Cream uses a safe, potent formula that eliminates body odour while soothing your skin and keeping your pits feeling refreshed and free of body odour.
Our Everyday Essentials Bundle contains:
-Your choice of any 1 x Soap from our Dailies Collection
-Your choice of any 1 x 10 gms Tin of Natural Deodorant Cream 
- 1 x Exfoliating soap bag. 

 *Please note that our Dailies soap bars travel 'bare', i.e with only a cigar sleeve and no tissue paper covering.
Is this a Gift?

Add a personalised note in to your giftbox! You can mention this and your message in the notes at checkout.
Ingredients

Varies for each bar. Please check individual pages for specific information on each product
Usage Instructions

To prolong the life of your soap in the bath, keep it on a well-drained dish, standing upright to allow for it to dry between uses.
If you find the soaps are too big for your hands, feel free to cut them into half to make them easier to handle.
For External use only. Please conduct a patch test on your skin before using. In case of irritation please discontinue use.
Storage Instructions

Unwrap the soap and keep it in a cool, dry place like your cupboard where you can enjoy its scent.
Shelf Life

Essential oils tend to evaporate over time so we recommend using your soap within 6 months to enjoy its fragrance

Best before 12 months, if stored in ideal conditions.
Important

Our soaps are handcrafted in small batches and cut by hand and therefore no two bars will be alike. Various uncontrolled factors affect how saponification takes place and hence soaps vary from batch to batch as do designs. These are artisanal products so please allow for slight variations and imperfections, these make each bar unique and that's what we love about it.
This pricing is for one unit only of this particular product only.
Due to the nature of our products, unfortunately, we do not offer any refunds or accept returns. If you are unsatisfied with a product, please feel free to mail us at hello@sat-suma.com with the problem you might be facing and we will try our best to resolve it.
We typically dispatch orders within 3-5 business days from the receipt of the order unless specified by us
Packaging

– All our packaging is 100% Plastic Free and Recyclable.
– Our Soap Bars are wrapped in FSC Certified Acid-Free Tissue printed with Soy-based inks
– Our labels are 100% Recyclable
– We use recycled paper shreds or honeycomb paper to safely pack all our products
End of Life

Sticker and Label is compostable. The Tissue can be recycled or repurposed
View full details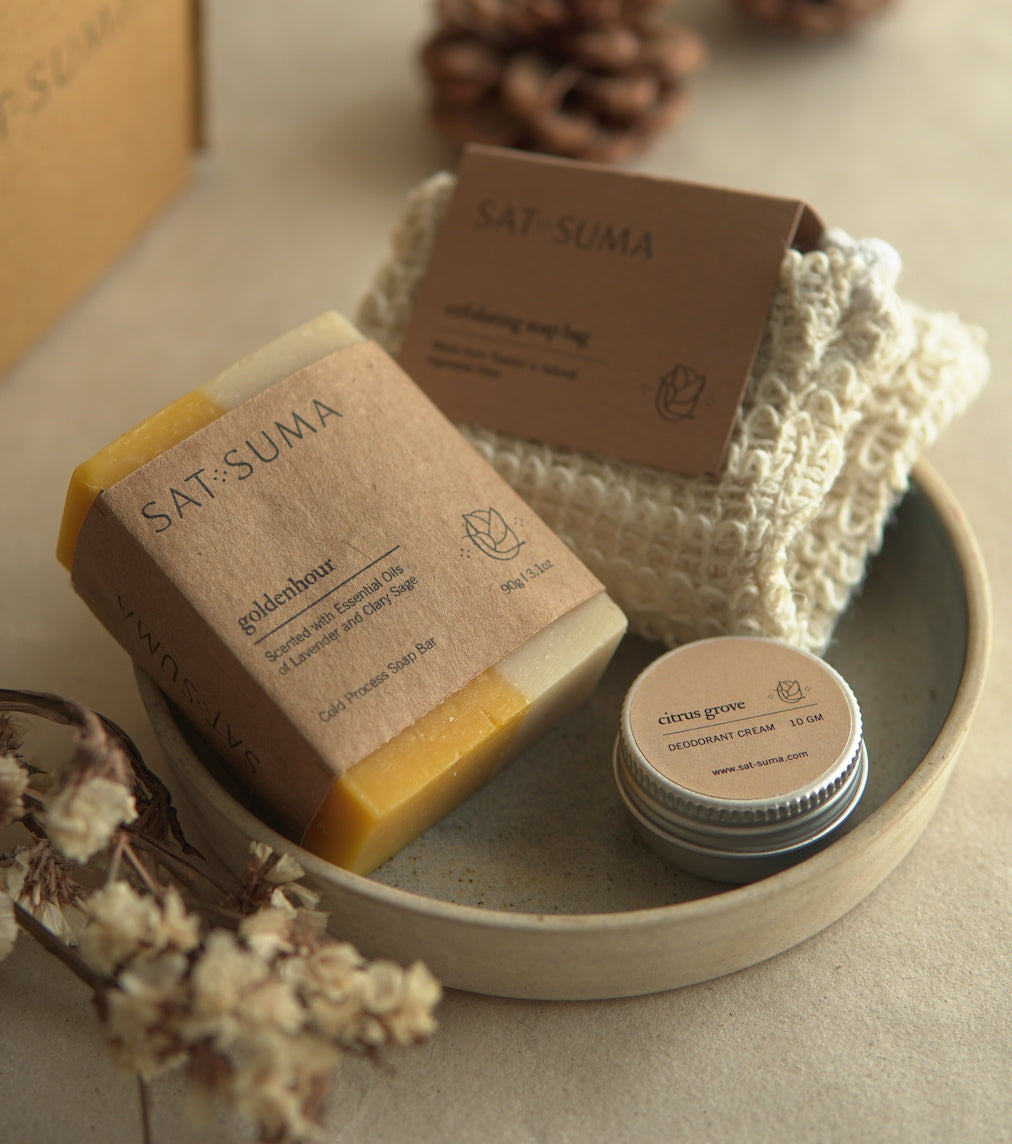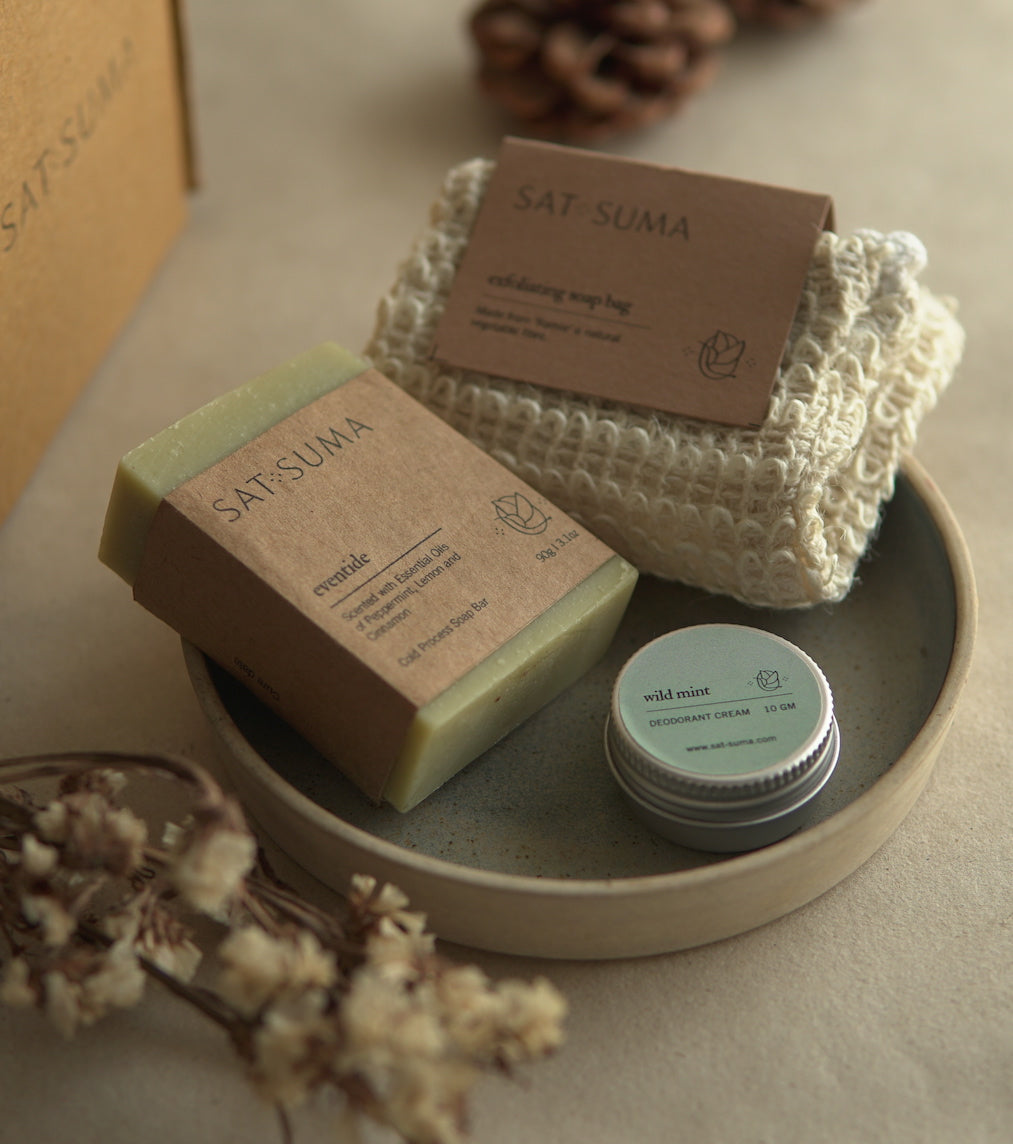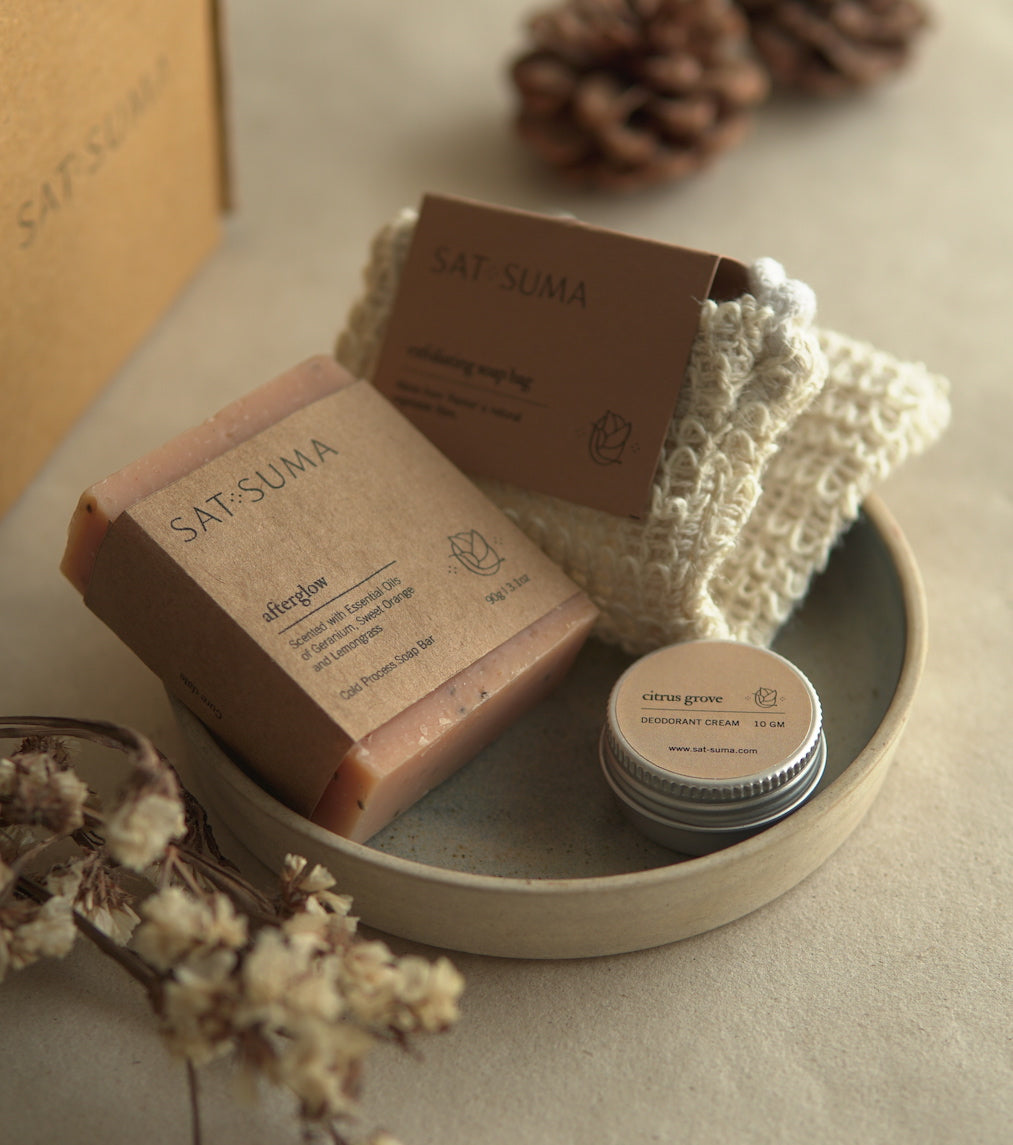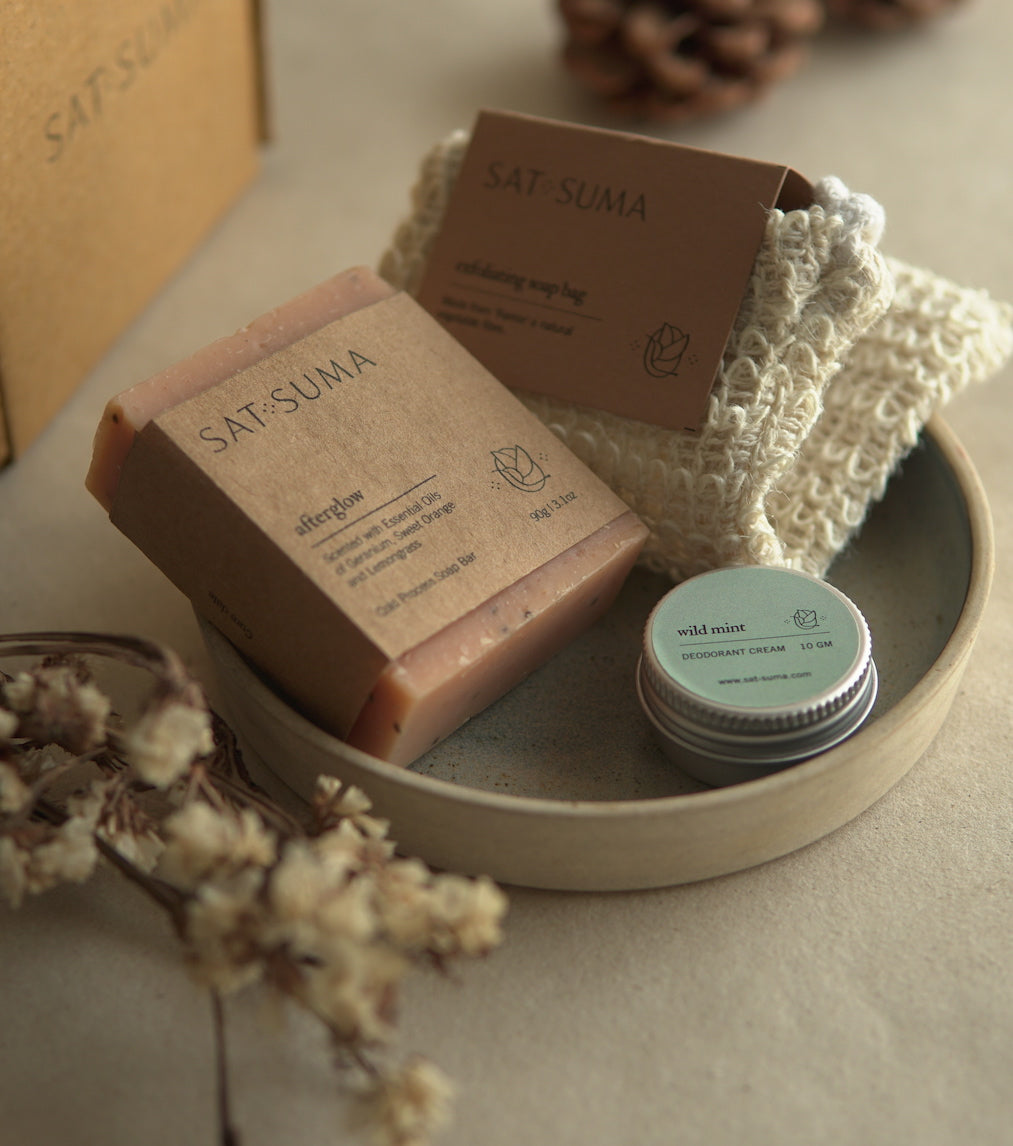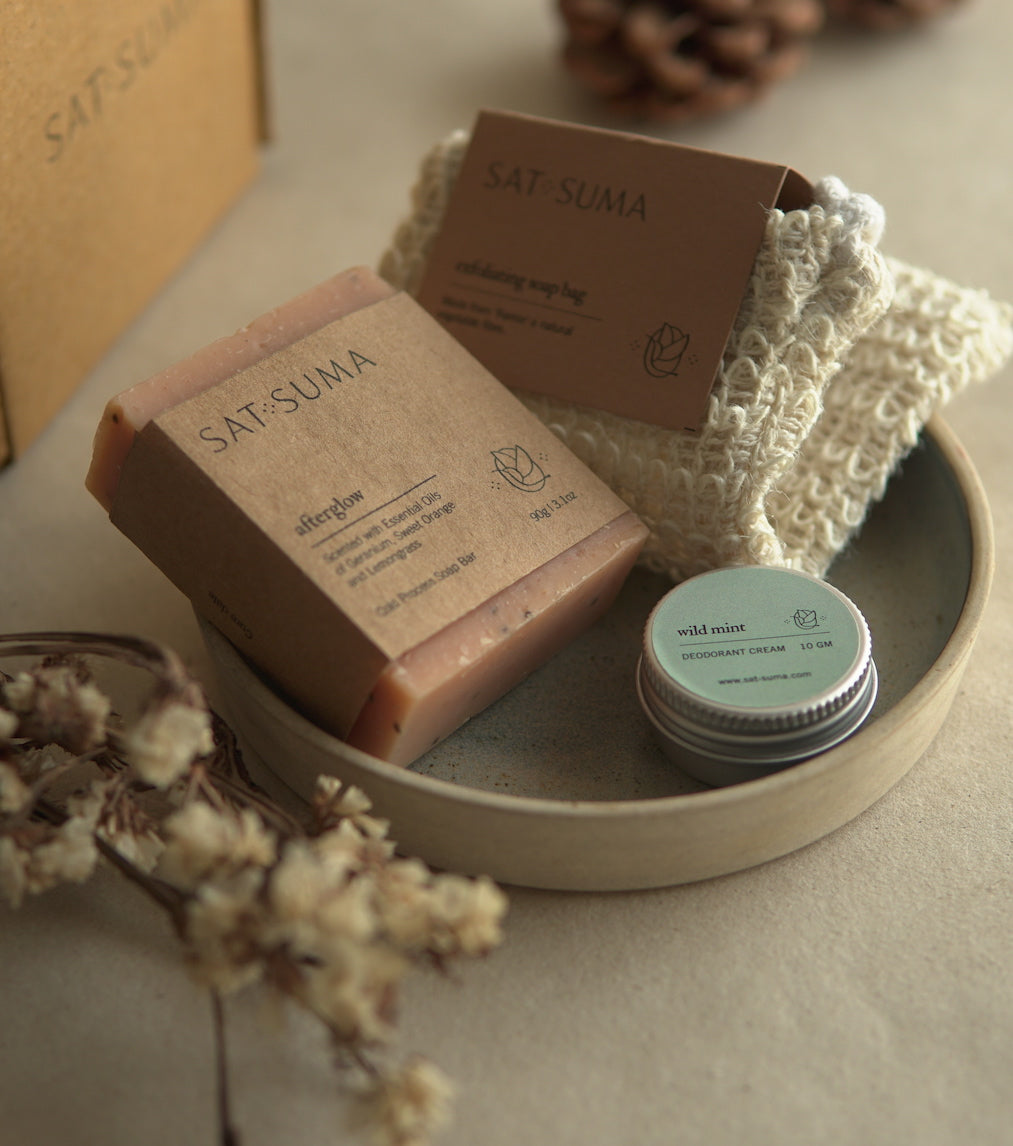 At Sat.Suma, we take sustainability seriously.
From responsibly selected natural ingredients for our products to thoroughly researched and sustainable packaging solutions for our products and delivery, our goal is to provide you with a product that is safe & effective yet has a minimal impact on the environment.
We really believe it's essential to do every little bit for our wonderful, generous planet.